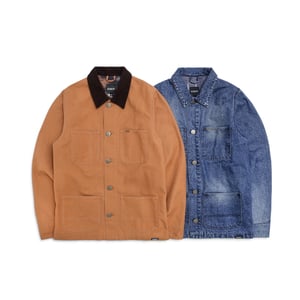 $

135.00
We carefully selected the wear-resistant thick
denim and cotton fabric,
through the light enzyme wash treatment,
it's totally shows the vintage and sophisticated texture.
And through the fastidious three-line sewn tech,
combine the classic and sharp's fatigue clothes cutting,
it's definitely your autumn and winter's first choose for wearing.
Color : Khaki (Denmark camo inside) / Denim (Straight stripe pattern inside)
Size : S / M / L / XL
Price : Khaki USD$135 / Denim US$ 145
Release date : 2016.10.28 (Fri)
Item ID :
Khaki : 16AWF017JK01KH
Denim : 16AWF017JK01SP62
※"Notice"Denim jacket is made before the washing progress treatment,
if you found there's any dyeing problem ,it's a normal phenomenon.
Chore Coat SPEC
Size XL
Shoulder Width 44cm
Length 78.5cm
Chest width 57.5cm
Sleeve Length 68.5cm
Size L
Shoulder Width 43cm
Length 78.5cm
Chest width 55cm
Sleeve Length 68.5cm
Size M
Shoulder Width 41cm
Length 73cm
Chest width 52cm
Sleeve Length 68cm
Size S
Shoulder Width 40cm
Length 69cm
Chest width 50cm
Sleeve Length 67.5cm
More detail, please visit our website